The badge and chain was presented to Council on 8 April 1904 by Council member Mr John Archibald Watt Dollar. At the same meeting, members of Council presented a presidential robe.
According to reports in The Veterinary Record (16 April 1904), Mr Dollar explained that it was at the banquet following the Council meeting in 1903 at which the mace had been presented to the President, that it was agreed that "if the Council would, as a body, present a robe, I would undertake to present the chain of office."
In reply to Mr Dollar, the President Professor William Owen Williams offered his thanks for "the handsome and generous gift" and commented "I trust that these insignia will be handed to many much worthy men than myself."
The Veterinary Record describes the badge as containing: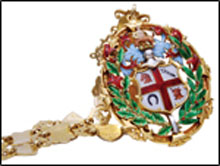 "the armorial bearings of the College in coloured enamels, surrounded by wreaths of oak and laurel. Below it carries the Cup of Hygiea, and it is surmounted with the Royal arms indicating the Royal Charters under which the College is instituted."
The reverse of the badge is inscribed "presented to the Royal College of Veterinary Surgeons by JNO Dollar 1904."
The chain is comprised of: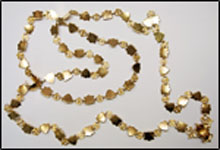 "three varieties of links, two different forms of shields, and intermediate embossed and chased circular links... The links of the chain being composed of 18ct gold, the enamelled portions of the badge 22ct gold and the knightly helm and Cup of Hygiea of platinum."
The links connecting the badge to the chain are made up of the intertwined initials 'RCVS'.
It has become practice to record the names and dates of the holders of the office of President on the links of the chain. Thus the names of Presidents from Professor Williams to more recent office holders are inscribed.
To view the presidential badge and chain, or any other item in the archives, please contact us at library@rcvsknowledge.org or 020 7202 0752 to arrange an appointment.