We have the following collections of personal or private records.
Major General Sir Frederick Smith KCMG, CB, FRCVS (1857-1929)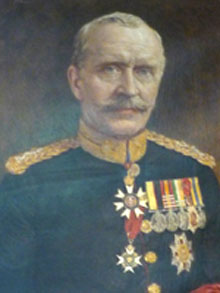 Sir Frederick Smith graduated from the Royal Veterinary College in 1876 and after several months in general practice he joined the army, serving in India from 1878-1885. It was whilst in India that he began his work on the treatment of military service animals, in particular the treatment of sore backs.
Returning from India Sir Frederick was appointed Professor at the Army Veterinary School in 1886. In 1892 he was appointed to the Remount Department and served with the Nile Expedition and throughout the South African War, becoming Principal Veterinary Officer in South Africa in 1903. He was appointed Director General of the Army Veterinary Service in 1907, retiring from that post in 1910.
Smith was a prolific writer producing some 49 articles, books including Manual of veterinary hygiene, Manual of sore backs and Manual of veterinary physiology as well as a number of histories of the profession A history of the Royal Army Veterinary Corps, 1796-1919, A veterinary history of the war in South Africa and his four volume work The early history of veterinary literature and its British development.
The Smith Collection includes notes relating to his research and publications, reprints of his published articles, handwritten notes for his autobiography, his official diary of the war in South Africa 1899-1902, photographs and notes relating to the Army Veterinary Service and letters written between 1877-1929. A content list of the Frederick Smith Collection can be downloaded from the 'Related documents' box.
Dame Olga Uvarov DBE FRCVS (1910-2001)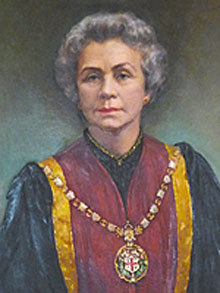 Dame Olga Uvarov was born into an affluent Russian family in 1910. She was forced to flee Russia and come to England to live with her uncle, the entomologist Sir Boris Uvarov, following the 1917 Revolution and the death of her parents.
Graduating from the Royal Veterinary College in 1934 Uvarov worked in practice until 1950 when she switched to work in the pharmaceutical industry, eventually becoming head of the veterinary advisory department of Glaxo from 1967-1970.
Olga Uvarov was president of the Society of Women Veterinary Surgeons from 1947-1949 and of the Central Veterinary Society in 1951-1952. She became a Fellow of the RCVS in 1973 and its first woman president in 1976.
The Uvarov Collection includes personal papers, photographs and correspondence, press cuttings, and notes for published papers.
Connie Ford MBE MRCVS (1912-1998)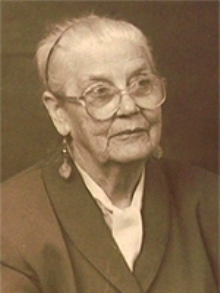 Connie Ford qualified from the Royal Veterinary College in 1933 and built up her own practice in London, specialising in marmosets. In 1943, following a stint in the Land Army, Ford joined the Veterinary Investigation Service at Sutton Bonnington where she remained for 29 years, becoming a specialist in the infertility of cattle. Connie Ford was awarded an MBE in 1970.
Connie Ford published four volumes of poetry and a biography Aleen Cust, Veterinary Surgeon Britain's first woman vet.
The Ford Collection includes personal papers and field observations and notes relating to her work in Sutton Bonnington.
Thanks to support from the Alborada Trust, Vets4Pets & Companion Care and other donors, we are delighted to announce that we are now able to embark on a major project to catalogue the priority documents in this historic collection and repackage them to archive standards. We have also been able to purchase the specialist digital scanner we needed to enable us to produce high-definition scans of each document so that we can start to make this marvellous archive widely available on-line, not just to the veterinary profession, but to the public as well. Lorna Cahill has now joined us from the Royal Botanic Gardens, Kew to head the project.

This five year project is a major undertaking, and you can follow its progress in the Historical Collections blog and on our social media.