Chris tells us about his Extra-Mural Studies grant which was used to assess the success of an elephant orphanage's rehabilitation program.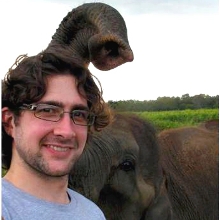 The Asian elephant has disappeared from 95% of its historical range. As wild populations continue to decline there is a focus to reintroduce orphaned elephants back into the wild.
In 2011 the RCVS Charitable Trust gave me grant to go to The Udawalawe Elephant Transit Home in Sri Lanka to find out what the impact of rehabilitation is compared to a free life in the forest.
Due to the nature of the project which requires travel, accommodation and laboratory expenses it would be a lot more difficult to afford to do the project without the grant from the RCVS Charitable Trust. The final year of vet school can be expensive with all the added costs of rotations.
To find evidence of the program's success, I compared the elephants' behaviour and the stress hormones in their stools before and after release. My results show that the elephants adapt well to the wild without prolonged stress. Their semi-captive existence in the Elephant Transit Home prepares them and does not compromise their welfare.
I hope that this research will raise awareness about the program and will provide useful information for similar projects.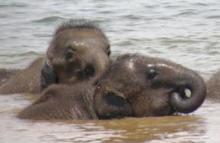 View my video diary (21.5 min)

Read my full report, available from the Related documents box.
Read my blog post, available from the Related links box.
A snapshot of my career at the time of my grant
Completed a Zoology degree, Queen Mary, University of London
An assistant veterinary nurse, a referral hospital in Kent
Masters in Wild Animal Biology, Royal Veterinary College, London
Volunteered in Thailand for an animal rehabilitation organisation for Asiatic Black Bears
Studying to become a vet, Royal Veterinary College, London
Could you fund an EMS award?

Dame Olga Uvarov FRCVS gave a generous bequest to the RCVS and it is through her legacy that these EMS grants were offered in 2011. Dame Olga was the first female President of the RCVS in 1976, and had an extra-ordinary life story. Since 2001 her gift has funded a number of travel and research achievement awards.

EMS grants have also been given due to the generosity of Miss Rosemary Hughes MRCVS. In 2011 we were told about the sad death of Rosemary Hughes. Rosemary had a long and distinguished career as a practising vet, and finally 'officially' retired when she reached the grand age of 80. Rosemary was the first female vet in Derbyshire to work on large animals. She had an eventful career – both inventing and patenting the Hughes Lamb Snare to assist in difficult births; and working on the foot and mouth outbreak in 1967.

If you want to know about making named gifts to support this, or our other grants programmes, please email us at grants@rcvsknowledge.org or call 020 7202 0714.