A Knowledge Group is a partnership between EBVM Network members on a specific area of veterinary care. The primary aim of a Knowledge Group is to create Knowledge Summaries (critically appraised topics), and to prioritise and develop evidence-based resources and research projects within their chosen area.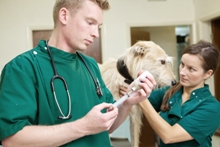 Veterinary research is not always carried out with the day-to-day needs of 'frontline' veterinary practitioners in mind. Over the next 3 years, we aim to provide evidence for a significant proportion of the conditions most commonly seen in their daily caseloads. For this to happen those who have an interest in (or are directly affected by) clinical research need to be involved. The solutions for EBVM challenges need to be crowd-sourced and community led, rather than dictated by those with little or no experience of day-to-day clinical practice.
What's the point of the Knowledge Groups?
The ultimate goal of a Knowledge Group is to summarise and review evidence that is of direct use to veterinary healthcare teams, in order to:
Ensure that veterinary treatments do more good than harm;
Identify gaps in knowledge;
Strive to bridge those gaps through sound research; and
Contribute to good evidence becoming an integral part of the cultural approach to veterinary healthcare
Write Knowledge Summaries and submit to Veterinary Evidence.
Sign up for a Knowledge Group - and specify the subject, species or health condition for which you are particularly interested in reviewing the evidence. Are you ready to take the lead and nominate yourself (or a colleague) as an interim Chair? Learn more about how you can get involved.