A recent legacy gift from Miss Rosemary Hughes MRCVS has been used to fund veterinary undergraduates in their compulsory Extra-Mural Studies (EMS).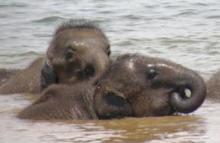 In 2011, five EMS grants were awarded thanks to the generosity of Miss Hughes's gift. One recipient is Chris Snow, a veterinary student studying at the Royal Veterinary College. His EMS project focused on the release of orphaned elephants from rehabilitation centres in Sri Lanka.
Chris spent time at the Udalawe Elephant Transit Home which cares for orphaned elephants up until the age of 4. The elephants are managed within a national conservation area and fed liquid milk every 4 hours. In between milk feeds they are encouraged to walk into the forest and forage for food to help them adjust to a diet of grass. All of this is done with minimal human contact as release to the wild is the ultimate goal.
When the elephants reach 4 years they are released into a different part of the national park which is home to around 600 wild elephants. Each elephant is fitted with a radio collar which Chris used to track their movements and analyse their behaviour. He also collected faecal samples in order to measure their cortisol levels, giving an indication of the elephant's stress.
In conducting this study he plans to find out how the released elephants integrate with the wild population and what the impact of their rehabilitation has been when compared to a free life in the forest. Chris hopes that 'studying and recording the project in such detail will benefit (and possibly enhance) other release programs.'
Chris is currently collating his results; progress can be followed on the Grant-holders blog Advancing Animal Health.