Donate today and make a difference to animal health, treatment and welfare through the advancement of veterinary knowledge.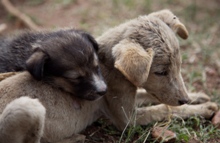 Make an online donation
Make a postal donation
Set up a regular gift
Make your gift go further
Leave a legacy
Donate items of veterinary interest
Make an online donation to RCVS Knowledge
Make an online gift to our general work via Charity Choice.
Make a postal donation to RCVS Knowledge
Complete our 'Single donation form' and send it to RCVS Knowledge, Belgravia House, 62-64 Horseferry Road, London SW1P 2AF. Please make cheques payable to "RCVS Knowledge".
Regular giving
Giving regularly is a great way to support RCVS Knowledge. Monthly donations of any amount are hugely important to our work as they enable us to plan our projects effectively.
To set up a regular gift by standing order, download and return our 'Regular giving form' or set up a regular donation via the "PayPal" system.
Giving monthly through standing order from your bank means your money is taken out after tax. However, if you are a UK taxpayer RCVS Knowledge can claim back Gift Aid. This means that we can boost your donation by an extra 25p for every £1 you give.
Make your gift go further
If you're a UK tax payer, you can make your donations worth much more through Gift Aid.
Gift aid is tax relief on money donated to UK charities. The government treats donations as if the donor had already deducted basic rate tax from the donations. The charity can then reclaim this tax to increase the value of a donation. So, we can claim an extra 25p for every £1 you give. For example, if you are a UK tax payer and donate £10 to us, we can get £12.50 from that donation – at no extra cost to you!
To make your gift go further, make sure you read the 'Gift Aid' declaration and then simply tick the box to confirm your understanding when giving online or on your donation form. Don't forget to make sure that you have supplied us with a residential address. We can reclaim tax on any donations made over the last four years, so if you have made donations to RCVS Knowledge in the past but have not yet completed a Gift Aid declaration, please contact clare@rcvsknowledge.org.
Have a play around with this clever Gift Aid Calculator to work out what your donation amounts to: www.itforcharities.co.uk/gaidcalc/simple.htm.
If you'd like to find out more, have a look at the government HM Revenue and Customs website www.hmrc.gov.uk/charities/gift-aid.htm.
Please notify us if you:
Change your name or home address
Want to cancel your declaration
Leave a legacy
Leaving a gift to RCVS Knowledge in your Will is a fantastic way to make a difference long into the future. Your money will support vital improvements in veterinary care through a wide range of worthwhile projects. For further information read our 'Leave a lasting legacy' section.
Donate items of veterinary interest
The RCVS Knowledge Library may be able to advise enquirers on the disposal of unwanted items of veterinary interest. Items may be useful to veterinary faculties and bodies in developing countries. Please contact us at library@rcvsknowledge.org or 020 7202 0710.