9 May 2016
After the success of the first issue, we are delighted to announce that the second issue of Veterinary Evidence is now live.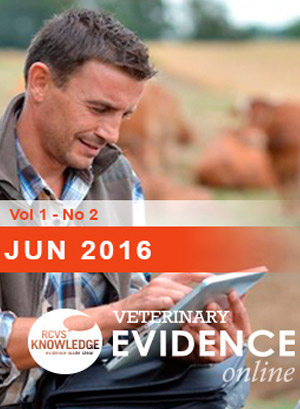 Veterinary Evidence is our new open-access resource, uniting those who are interesting in promoting and using the principles of evidence-based veterinary medicine (EBVM) within practice or academia.
Content now includes:
"Which is More Effective in Altering the Intra-Gastric pH in Dogs, Omeprazole or Ranitidine?"
"Evaluation of Factors Influencing Thigh Circumference Measurements in Dogs"
"Evaluation of Accelerometer Inter-Device Variability and Collar Placement in Dogs"
And "An Interview with Professor Lance Lanyon"
We are continuously publishing open access content – to be notified every time new content is added to this issue sign up for content alerts (works best in Safari, IE or Firefox) and follow us on twitter!
You can be part of the advancement of EBVM by submitting your Knowledge Summaries or Articles to Veterinary Evidence for free.
The site compiles easy links for the practitioner; including the Clinical Audit Toolkit, Guidance on Scientific Writing, the EBVM Toolkit and EBVM Learning. Over time the site will expand to include forums, conference details and many other EBVM resources.