9 June 2015
We are embarking on a five year project to catalogue and digitise priority pieces from our historic collections and make them available for free online, it was revealed on Wednesday at our annual Summer Reception at Belgravia House, London.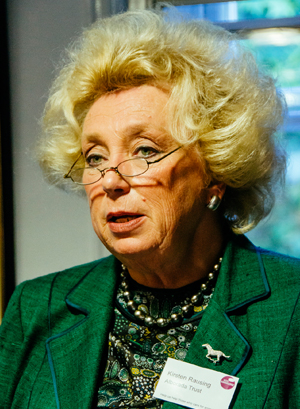 Guest speaker Kirsten Rausing announced £387,275 in funding from The ALBORADA Trust for the project, which follows the donation of a specialist scanner from Companion Care & Vets4Pets and early support from other donors.
Our historic collections contain over 3,000 books and journals published prior to 1900, including the earliest specific veterinary text ever published, Artis veterinariae, sive mulomedicinae libri quatuor, dating back to 1528.
Ms Rausing said that the veterinary profession in Britain is one of the oldest in the world and that much of its accumulated knowledge is housed in the RCVS Knowledge historic collections.
She said: "We cannot afford to lose such historical knowledge, much of which forms the basis of what we know today and some of which certainly has value in its own right.
"I am therefore delighted to announce that The ALBORADA Trust will be funding a five year project at a total of £387,275 to enable RCVS Knowledge to reorganise and properly store the priority books and documents so that this very important collection can remain in good shape for the future."
She added: "The project will also digitise the documents so that this unique source of veterinary information is made widely available for free, to the profession at large and to members of the public also."
Nick Royle, our Executive Director, thanked Ms Rausing and The ALBORADA Trust, and said that RCVS Knowledge was immensely pleased to have the opportunity to open our collections up to the public.
He said: "This grant enables us to take these fantastic pieces of veterinary history out of the cupboards, ensure their conservation, and provide global access to them for everyone – from veterinary professionals, to researchers and history buffs."
The project will commence later in 2015 and will involve an archivist and a specialist in digitisation.