11 July 2011
At RCVS Day on 1 July 2011, we presented a new Award - the Lifetime Contribution Award - designed to recognise individuals who have given outstanding service and effort to the RCVS Charitable Trust over a long period.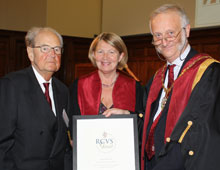 In this first year there were two recipients: Norman Comben HonFRCVS (pictured right) and Bruce Vivash Jones MRCVS (below) - both now octogenarians but still immensely active and influential in the areas of veterinary history and historical records.
Both have been recognised by the RCVS and others in the past for their expertise and contributions in this area, but Trustees particularly wanted to acknowledge their special contributions to the historical collection and the RCVS archives held by the RCVS Charitable Trust Library.
The awards were presented by Jill Nute, Chair of Trustees and Peter Jinman, RCVS President.
The Librarian, Clare Boulton, said of Norman Comben: "Norman's help and advice has been invaluable as we have worked to make the depth and breadth of the Trust's Historical Collection known to a wider audience.
"It has been delightful to be able to share Norman's passion for 'old books'."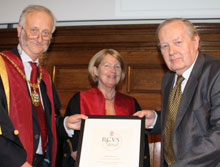 In recent years Bruce Vivash Jones has led the project to identify and catalogue the paintings, photographs and artefacts belonging to the RCVS - a project which will come to fruition with a publication later this year.
In another recent development, he is working with the Librarian to co-author a number of articles telling the story of items in the archives - thus bringing them, and the Trust's role in promoting the heritage of the veterinary profession, to the attention of a wider audience.
Clare said: "Bruce has a unique way of making the objects in the archives 'come alive' by telling the stories behind the item itself or that of the people to whom they belonged."