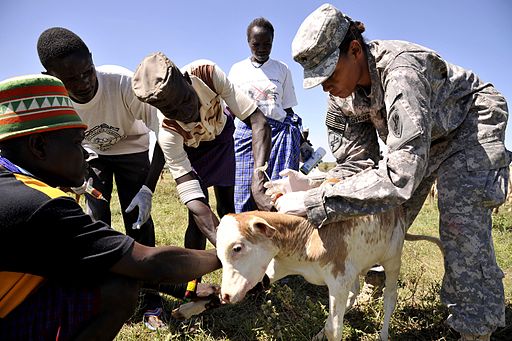 The One Health approach has become an important focus in both medical and veterinary sciences. It recognises the relationship between both health and disease at the human, animal and environment interfaces. It promotes holistic treatment of health hazards and a systemic change of perspective in the management of risk by increasing communication and cooperation across a wide variety of disciplines.
Emerging zoonotic diseases can lead to potentially serious human health and economic impacts; the role of the veterinary profession in disease surveillance is increasingly important.
In March 2016 an international symposium organised by the Dynamic Drivers of Disease in Africa Consortium and Zoological Society of London - One health for the real world: zoonoses, ecosystems and wellbeing.
Upcoming events
Key publications

More references are available to download from our 'Related documents' box on the right hand side.
Books available in the library
Aguirre, A. Alonso et al. (ed.) (2002) Conservation medicine: ecological health in practice. Oxford: Oxford University Press
Rushton, Jonathan (2009) The economics of animal health and production. Wallingford: CABI
Aguirre, A. Alonso, Ostfeld, Richard S. and Daszak, Peter (2012) New directions in conservation medicine. Oxford: Oxford University Press
Electronic access to full-text articles for library members

Anyone is welcome to visit us and use our resources during opening hours. The library has a wealth of print and electronic resources to support your study and clinical practice. There is a quite corner for private study or reading, and staff are always on hand to assist you.

MRCVS vets and RVNs can join the library for a heavily subsidised, annual fee. All library members have full access to our electronic resources and access to full-text journal articles.
Photo: U.S. Army Sgt. Demetria Stewart, 448th Civil Affairs Battalion Functional Specialty Team animal care specialist, shares best practices with Richard Angella, second from left, on how to properly treat a cow during the field portion of the One Health training held Nov. 18 to 27, 2012. Soldiers from Combined Joint Task Force-Horn of Africa partnered with local Ugandan leadership, Makerere University, the Uganda People's Defense Force and the U.S. Agency for International Development to help strengthen the capabilities and knowledge of Ugandan veterinarian and public health workers.
This image is a work of a U.S. Army soldier or employee, taken or made as part of that person's official duties. As a work of the U.S. federal government, the image is in the public domain. Source: https://www.dvidshub.net/image/812205 Author: Staff Sgt. Shejal Pulivarti