International Veterinary Epilepsy Task Force Consensus Reports
An international body of vets and scientists have come together to set out unified and standardised guidelines for the research, diagnosis and treatment of canine and feline epilepsy for the first time ever in veterinary medicine.
These 'consensus statements' outline a number of recommendations and classification on all aspects of the condition. [open access articles in BMC Veterinary Research, last accessed 4 May 2015]


Publications from Veterinary Evidence,1(1) Mar 2016

Systematic review: canine epilepsy treatment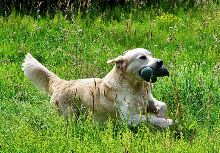 Researchers at the Royal Veterinary College, London, carried out a systematic review evaluating the efficacy of antiepileptic drugs for the treatment of canine idiopathic epilepsy.
and why don't all dogs respond to anti-epilepsy treatments?
Watch a free webinar
Other references of interest
More references are available to download from our 'Related documents' box
Photo: Golden retriever. Author Dirk Vorderstrasse. This file is licenced under the Creative Commons Attribution 2.0 Generic licence.