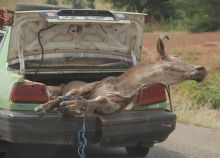 1. Herrel, A. and van der Meijden, a. (2014) An analysis of the live reptile and amphibian trade in the USA compared to the global trade in endangered species. The Herpetological Journal, 24 (2), pp. 103-110
2. McCorkell, R. et al. (2013) Transport versus on-farm slaughter of bison: physiological stress, animal welfare, and avoidable trim losses. Canadian Veterinary Journal, 54(8), pp. 769-774
3. Faucitano, L. (2013) Causes, effects of pig stress during transportation. Pig Progress, 29(6), pp. 8-10
4. DEFRA (2012) Live transport: welfare regulations [online]. Available from https://www.gov.uk/farm-animal-welfare-during-transportation [accessed 21/10/2013]
5. Compassion in World Farming - live transport & live export [online]. Available from http://www.ciwf.org.uk/resources/publications/live_transport_live_export/default.aspx [accessed 21/10/2013]
References
A selection of references from CAB Abstracts database on the transportation and exportation of live animals - welfare and guidelines, is available to download from our 'Related documents' box.

Books available to borrow from the Library
Marchant-Forde, J.N. (ed.) (2009) The welfare of pigs. [s.l.]: Springer
Animal Transportation Association [AATA] (2000) AATA manual for the transporation of live animals. Redhill: T.C. Harris
Grandin, T. (ed.) (2000) Livestock handling and transport. Wallingford: CAB International
Photo: Transport of cow (alive) in Burkina Faso, West Africa. This file is licensed under the Creative Commons Attribution-Share Alike 3.0 Unported, 2.5 Generic, 2.0 Generic and 1.0 Generic license.