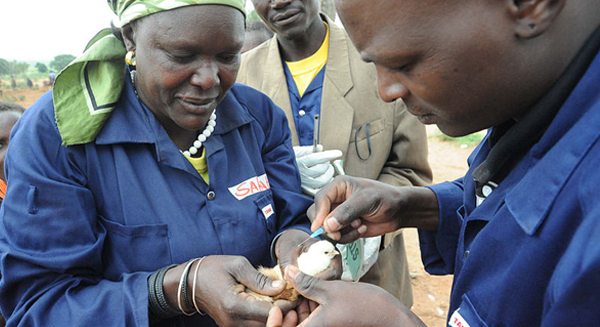 Vaccines are a safe and beneficial veterinary intervention but they are known to sometimes produce undesired adverse effects or adverse reactions.
We have carried out a search on CAB Abstracts database on the risks and benefits of vaccination - you can download the results from the 'Related documents' box.
Position statements and guidelines
Other references of interest
RCVS Code of Conduct
Pharmacovigilance
Image: Lokoru Sarah, a Kaabong community animal health worker, assists Longole Simon Peter with the vaccination of a baby chicken near Kaabong, Uganda. Author: Senior Airman Kaitlyn Johnson. Source: https://www.dvidshub.net/image/464095 This image or file is a work of a U.S. Air Force Airman or employee, taken or made as part of that person's official duties. As a work of the U.S. federal government, the image or file is in the public domain.