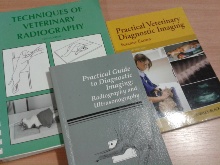 1. Banzato, T. et al. (2013) A review of diagnostic imaging of snakes and lizards. Veterinary Record, 173 (2), pp. 43-49
2. Day, J.L. (2013) Review of the radiographic signs of intestinal obstruction. Australian Veterinary Practitioner, 43 (2), pp. 432-440
3. Ciasca, T.C., David, F.H. and Lamb, C.R. (2013) Does measurement of small intestinal diameter increase diagnostic accuracy of radiography in dogs with suspected intestinal obstruction? Veterinary Radiology & Ultrasound, 54 (3), pp. 207-2114
4. Buker, Markus et al. (2010 Gastrointestinal obstruction caused by a radiolucent foreign body in a green iguana (Iguana Iguana). Canadian veterinary journal, 51(5), pp. 511-514 [Available online http://www.ncbi.nlm.nih.gov/pmc/articles/PMC2857431/] [accessed 24/9/2013]
More references from our search in the CAB Abstracts database are available to download from our 'Related documents' box.
Books available to borrow from the Library
Easton, S. (2012) Practical veterinary diagnostic imaging. Oxford: Wiley-Blackwell
Gatesman, T.J. (2011) Diagnostic imaging of exotic pets: birds, small mammals, pets. Hanover: Schutersche Verlagsgesellschaft mbH & Co.
Barr, F. and Gaschen, L. (eds.) (2011) BSAVA manual of canine and feline ultrasonography. Quedgeley: BSAVA
Thrall, D.E. (2007) Textbook of veterinary diagnostic radiology. St. Louis, Missouri: saunders
Han, C.M., Hurd, C.D. and Kurklis, L. (1994) Practical guide to diagnostic imaging: radiology and ultrasonography. Goleta: American Veterinary Publications