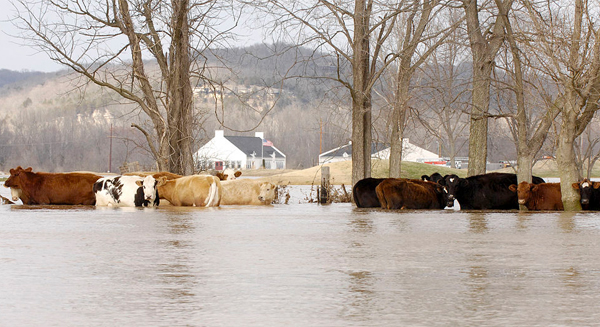 Animals are affected by natural and manmade disasters and emergencies. It is important that veterinarians are prepared in response to a disaster, and provide a vital service to affected animals and their owners.
DEFRA (2012) FAWC opinion on contingency planning for farm animal welfare in disasters and emergencies; Keeping livestock healthy: disease controls and prevention; disease notification: duties of farmers (available online, last accessed 13/11/2015)
AVMA disaster preparedness resources for veterinarians; AVMA emergency preparedness and response guide; A collection of free access articles from JAVMA (available online, last accessed 13/11/2015)
Sprayson, Tess (2009) Taking the lead: veterinary intervention in disaster relief In Practice, 28(1), pp. 48-51 (available online, last accessed 13/11/2015)
Books available from the library
Wingfield, Wayne E. and Palmer, Sally B. (2009) Veterinary disaster response. Ames, Iowa: Wiley-Blackwell
Wingfield, Wayne E. ...et al. (2009) Veterinary disaster medicine: working animals. Ames, Iowa: Wiley-Blackwell
AVMA (2008) Disaster preparedness and response. Schaumburg: AVMA
A selection of references
Stauffer, Kendra E. and Conti, Lisa (2014) One Health and emergency preparedness. Veterinary Record, 175(17), pp. 422-425
Allen, H. and Taylor, A. (2014) Evolution of US foot-and-mouth disease response strategy. Disaster Prevention & Management, 23(1), pp.19-39
Moyer, W. ... et al. (2013) Veterinarians addressing local, state, and federal challenges in man-made or natural disasters. Proceedings of the 59th Annual Convention of the American Association of Equine Practitioners, Nashville, Tennessee, USA, 7-11 December 2013, pp 31-134
Vroegindewey, G. (2012) Animal welfare in disaster management. Proceedings of the Third OIE Global Conference on Animal Welfare, Implementing the OIE standards - addressing regional expectations. Kuala Lumpur, Malaysia, 6-8 November 2012, pp. 35-37
Alessandrini, B. ... et al. (2012) Emergency management: e-learning as an immediate response to veterinary training needs. Veterinaria Italiana, 48(2), pp. 219-225
Heath, S. (2011) Veterinarians in disasters. Veterinary Record, 169(7), pp. 185-186
Madigan, J. and Dacre, I. (2009) Preparing for veterinary emergencies: disaster management and the Incident Command System. (Special Issue: Veterinary education for global animal and public health.) Revue Scientifique et Technique - Office International des Epizooties, 28(2), pp. 627-633
Engelke, H.T. (2009) Emergency management during disasters for small animal practitioners. (Special Issue: Veterinary public health.) Veterinary Clinics of North America, Small Animal Practice, 39(2), pp. 347-358
Kenneth E. Nusbaum, Bernard E. Rollin, James S. Wohl (2007) The veterinary profession's duty of care in response to disasters and food animal emergencies. Journal of the American Veterinary Medical Association, 231(2), pp. 692-694
More references on the topic are available to download from our 'Related documents' box.
Image: Cattle in a flooded field in Missouri. Author: Jocelyn Augustino. This image is from the FEMA Photo Library. This image is a work of a Federal Emergency Management Agency employee, taken or made as part of that person's official duties. As works of the U.S. federal government, all FEMA images are in the public domain in the United States. Additional media usage information may be found at http://www.fema.gov/photo-video-audio-use-guidelines