Blood transfusion is an important procedure in veterinary emergency medicine. We have gathered a collection of references about the procedure, the benefits, the risks, and looking at how to reduce the risk of transmission of blood-borne infectious agents.
What are vets allowed to do?
The RCVS state the following in the Code of Professional Conduct for Veterinary Surgeons:
Diagnostic tests and application of new therapies
25.26 This list is illustrative and not exhaustive. RCVS advice should always be sought in cases of doubt.
b. Immediate group
The source animal in blood transfusion for use in clinical cases, but not on a larger commercial scale.
d. Not recognised practice
Harvesting blood or blood products on a larger commercial scale (see supporting guidance to the Code of Professional Conduct or 'Blood transfusions' below)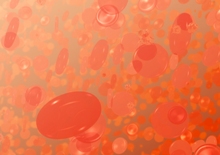 27.20 Section 2(8) of the Animals (Scientific Procedures) Act 1986 exempts procedures conducted as part of any recognised veterinary, agricultural or animal husbandry practice. Taking blood from healthy donors with the permission of the owner and with the intention of administering the blood or its products to a recipient is recognised veterinary practice where there is an immediate or anticipated clinical indication for the transfusion. Such a clinical procedure would be acceptable on the scale of an individual veterinary practice or between other practices in the locality. However, the collection of blood for the preparation of blood products on a larger commercial scale for general therapeutic use in animals may require licences under the Animals (Scientific Procedures) Act 1986; this larger commercial scale activity would need to be licensed under the Veterinary Medicines Regulations.
(information accessed 3/6/2014)
References on the topic
A more extensive list of references is available from the 'Related documents' box, on the right.
Thomovsky, E. J.and Bach, J. (2014) Incidence of acute lung injury in dogs receiving transfusions. Journal of the American Veterinary Medical Association, 244(2), pp. 170-174.
To document the existence and incidence of acute lung injury (ie, veterinary acute lung injury [VetALI] per the 2007 consensus definition) in a population of client-owned dogs receiving transfusions for various clinical reasons.
Holowaychuk, M. K.; Leader, J. L. and Monteith, G. (2014) Risk factors for transfusion-associated complications and nonsurvival in dogs receiving packed red blood cell transfusions: 211 cases (2008-2011). Journal of the American Veterinary Medical Association, 244(4), pp. 431-437.
To determine whether the number, volume, or age of transfused packed RBC units; volume of other blood products; or pretransfusion PCV was a risk factor for transfusion-associated complications or nonsurvival in dogs.
Anil Kumar and Haque, S. (2013) Studies on therapeutic efficacy of fresh and stored blood transfusion in clinically anaemic canines. Indian Journal of Field Veterinarians, 9(2), pp. 23-25.
Quazi, J. A. ... et al. (2012) Clinical management of ailments with blood transfusion in canines. Intas Polivet, 13(1), pp. 89-91.
Blood transfusion is an effective therapeutic for treating canines anaemia but is practiced rarely. Present report on blood transfusion in one male and four female dogs suffering from urolithiasis, parvoviremia, gastro intestinal foreign bodies and pyometra.
BSAVA's Scientific Committee (2000) Blood transfusions. Journal of Small Animal Practice, 41(9), pp. 431-4
[Image credit: Red blood cells illustration. This work has been released into the public domain by its author, Donald Bliss (Illustrator). This applies worldwide. In some countries this may not be legally possible; if so:
Donald Bliss (Illustrator) grants anyone the right to use this work for any purpose, without any conditions, unless such conditions are required by law.]