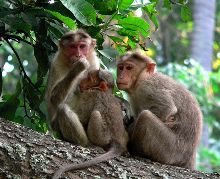 Increasingly a range of animals are now available as "pets", without careful consideration of their health and welfare or public safety. Members of the public can be led to believe that certain animals are "easy to keep". As a result, there are growing concerns about animals being released in the wild or dumped at rescue centres because owners find themselves no longer capable of keeping them at home.
There is now a new assessment tool called 'EMODE', which classifies animals as Easy, Moderate, Difficult or Extreme in terms of how difficult they are to keep.This has been designed to use by anyone thinking of acquiring any type of pet.
More information about this new initiative:
Jessop, M. and Warwick, C. (2014) Pets: to keep or not to keep - perhaps EMODE has the answer. Veterinary Times, 44(39), pp. 23-26
Warwick, C. et al. (2013) Assigning degrees of ease or difficulty for pet animal maintenance: the EMODE System Concept. Journal of Agricultural and Environmental Ethics [accessed 12 December 2013]
An EMODE brochure is also available.
Advice and guidance
References of interest
Warwick, C. (2014) The morality of the reptile "pet" trade. Journal of Animal Ethics, 4 (1), pp. 74-94
Brandao, J. and Mayer, J. (2011) Behavior of rodents with an emphasis on enrichment. Journal of Exotic Pet Medicine, 24 (4), pp. 256-269
Prokop, P. and Tunnicliffe, S.D. (2010) Effects of having pets at home on children's attitudes toward popular and unpopular animals. Anthrozoos, 23(1), pp. 21-35
Frank, J. (2008) Is there an "animal welfare Kuznets curve"? Ecological Economics, 66 (2/3), pp. 478-491
Sandoe, P. and Christiansen, S.B. (2008) Ethics of animal use. Oxford: Wiley-Blackwell
McGreevy, P. (2007) How much space does an elephant need? The impact of confinement on animal welfare. Journal of Veterinary Behavior: Clinical Applications and Research, 2(6), pp.185-187
More references are available to download from our 'Related documents' box.
Photo: This image, which was originally posted to Flickr.com, was uploaded to Commons using Flickr upload bot on 15:44, 8 July 2007 (UTC) by Ranveig (talk). On that date it was licensed under the license below. This file is licensed under the Creative Commons Attribution-Share Alike 2.0 Generic license.