The story of Britain's first cloned pet dog by a Korean company has raised many questions and serious ethical concerns. Is it a step too far?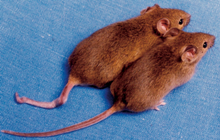 There are 3 types of cloning:
1. Gene cloning or DNA cloning - produces copies of segments of DNA
2. Reproductive cloning - produces copies of the whole animal
3. Therapeutic cloning - involves the process of somatic cell nuclear transfer (SCNT) to create tissue to potentially treat diseases and damaged organs
A FAQ fact-sheet on cloning (last accessed 30/6/2014)
Press news
Policies, position statements, and review papers
Additional references
Kim HakMin Cho. et al. (2013) Whole genome comparision of donor and cloned dogs. Scientific Reports, 3(2998):srep02998

Jang, G. et al. (2007) Birth of viable female dogs produces by somatic cell nuclear transfer. Theriogenology, 67(5), pp. 941-947

Bannasch, D. L and Hughes, A. M

. (2006) Recent advances in small animal genetics. Veterinary Clinics of North America, Small Animal Practice, 36(3), pp 461-474

Lee B.C. et al. (2005) Dogs cloned from adult somatic cell. Nature, 436, p. 641


Shin T. et al. (2002) A cat cloned by nuclear transplantation. Nature, 415, p. 859

Long, C.R. et al. (2003) New commercial opportunities for advances reproductive technologies in horses, wildlife, and companion animals. Theriogenology, 59, pp. 139-149

Lindblad-Toh, K. et al (2005) Genome sequence, comparative analysis and haplotype structure of the domestic dog. Nature 438, pp.803-819
Image: Cloned mice with different DNA methylation. Author: Photograph courtesy of Emma Whitelaw, University of Sydney, Australia. Source: Bradbury J: Human Epigenome Project—Up and Running. PLoS Biol 1/3/2003: e82. http://dx.doi.org/10.1371/journal.pbio.0000082. This file is licenced under the Creative Commons Attribution 2.5 Generic licence.