Huth, F.H. (1887) Works on horses and equitation: a biographical record of hippology. London: Bernard Quaritch (19113-1001).
This beautifully bound, limited edition, book was donated to the RCVS as part of the NR Turnbull bequest in 1983.
Frederick Henry Huth (1844-1918) assembled, with the assistance of Bernard Quaritch a dealer in rare books, what was at that time one of the largest collections of horse books. In the process of doing this the two men agreed that a bibliography of books about horses was needed and that this should include a subject, as well as a general index. Click on the photo below to view an enlarged version.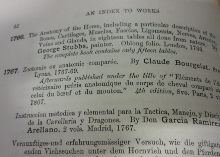 This ambition was fulfilled with the publication, in 1887, of the Works on horses and equitation: a biographical record of hippology. In the preface Huth states:
"I have endeavoured in the following pages to supply the subject of Hippology … a fuller and more trustworthy reference on the subject of the Genus Equus … than has before been published."
In the general index the entries are listed chronologically and run from Kimon of Athens (c430 BC) to an 1886 volume by the Badminton Library covering racing.
The subject indexes include breeding, cavalry, mules and asses and veterinary; where we find listed many works that we have in the Historical Collection. The index for 'Uses after death' includes Rowland Ward's Observations on the preservation of hoofs and the designing of hoof trophies whilst 'Artistic' includes Stubbs's Anatomy of the horse and Sainbel's Of the proportions of Eclipse.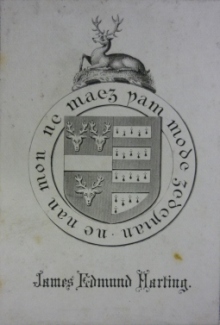 An interesting feature of our copy of Works on horses and equitation is that it contains the book plate of James Edmund Harting (1841-1928). Harting was Librarian of the Linnean Society from 1888-97, later serving as the Society's Assistant Secretary. He was a prolific writer on natural history, writing his first article for The Field in 1869, for whom he continued to work for fifty years. A copy of Harting's article on 'The horse and its historians' from The Field 2nd February 1889 which makes reference to Huth's bibliography has been pasted into the work itself.
We also have a copy of Huth's 1890 Works on horsemanship and swordsmanship in the Library of F.H. Huth in the Historical Collection.
To view these, or any other book in the Historical Collection, please contact the Library library@rcvstrust.org.uk or 020 7202 0752 to arrange an appointment.