Our archives contain a number of 18th and 19th Century manuscript veterinary receipt books. Receipt books were compiled by animal owners and contained recipes for pills and receipt lists obtained from farriers when medicines were prescribed.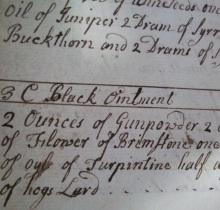 These compilations were usually kept in a pocket sized book, something small enough to use whilst on the move or in the stable.
Our collection of receipt books includes:
A beautifully bound, but slightly battered book, which was started by Joseph Larner on 26th August 1756. This book begins with neat script and numbered recipes. However, over time, the handwriting becomes more erratic and the language of the recipes less specific.
Larner gives a 'recipe' for Black Ointment as follows:
"2 ounces of Gunpowder, 2 ounces of Flower of Brimstone, one ounce of oyl of turpentine, half a pound of hogs lard".
However he does not tell us what this concoction would be used to cure.
Another collection of 'Receipts for Preparing Medicines for Horses and Cattle' was started in 1842 by Jock Parris of Bridport. One of the many interesting entries states that: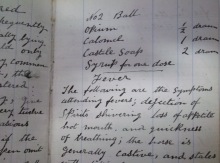 "Inflammation of the liver may be discovered by the yellowness of the eyes and the mouth, dark coloured urine, fever".
As a cure it advices use of the 'No 2 ball' consisting of:
"½ dram of opium, 1 dram of calomel and 2 drams of Castile Soap".
Click on the photo above to view an enlarged version.
If you want to see more of our collection of Receipt books, or you can shed some light on the mysterious 'Black Ointment', please contact the Library at library@rcvsknowledge.org or 020 7202 0752 to arrange an appointment.