Stordy, Robert John (191?) From Nairobi to the Red Sea through Ethiopia being an account of a mission to the Abyssinian government and a visit of inspection to the northern frontier district of British East Africa (22575).
Colonel Robert John Stordy CBE DSO MRCVS graduated from Edinburgh in 1894. Four years later he took up his first appointment in British East Africa as Veterinary Officer. In 1910 he was promoted to Chief Veterinary Officer.
At the outbreak of World War One Stordy was transferred to the military department and became Director of Veterinary Services and Remounts, East African Services with the temporary rank of Lieutenant-Colonel. Returning to England in 1917 he joined the Army Veterinary Corps and was posted to France firstly as Assistant Director of Veterinary Services and later as Deputy Director of Veterinary Services, Eastern Command.
Stordy was awarded the CBE in 1919. In 1920 he took up a post with the Peruvian government retiring from there in 1931. Stordy served as Chief Executive Officer of the National Air Raid Precautions Animals Committee (NARPAC) from 1939-1941. After a period of ill health he died in January 1943.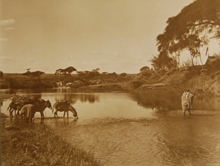 From Nairobi to the Red Sea through Ethiopia is an account of a mission to the Abyssinian government to open up trading in livestock between Kenya and Ethiopia. The journey of close to 1,500 miles commenced in August 1911 with Stordy being accompanied by Lord Cranworth.
The typed manuscript is divided into eight chapters which cover the various stages of the journey. The text gives a detailed, and fascinating, account of the journey and is accompanied by photographs of the landscape Stordy travelled through and the people he met.
Stordy records the start of the journey:
"On the morning of the 25th August we started off, the motor wagon carrying twelve passengers and three tons of luggage……. The natives turned out in hundreds to give us a hearty send off." After lunching with friends in a local hotel he recalls "owing to a heavy rainfall our difficulties began by the wheels of the heavily laden motor sinking into soft portions of the road…." By the end of that first day he writes "and right glad were we to turn in early after our somewhat arduous day."
The journey was completed some four months later and is recorded thus:
"I am glad to state that the long journey of close on 1,500 miles from Nairobi to the Red Sea was accomplished without the loss of a single man. Our servant and 'porter soldiers' had behaved extremely well, and with pleasure I place on record my appreciation of their services, often carried out under hard and trying conditions."

This unique account was presented to the Library by Mr Jack Carter in 1969.
To learn more about this fascinating journey, including a description of the tone deaf porter, read the transcription of Chapter One which covers the section from Nairobi to Guaso Nyero.
To view this, or any other item in the archives, please contact us at library@rcvsknowledge.org or 020 7202 0752 to arrange an appointment.
The account of this journey has just been published Robert Stordy in Abyssinia: an extraordinary veterinary surgeon and it is now available to purchase.