Recently we highlighted the presidential badge and chain and the RCVS mace. Here the focus falls on the presidential chair.
The chair was presented to Council on 28 July 1887 by Council member Thomas Greaves. The Veterinarian Vol 60 No 717 p. 654 records that:
"Before taking his seat the President [Sir Henry Simpson] announced that Mr Greaves had kindly presented the College with a presidential chair and he thought that before it was occupied for the first time the Council would wish in some way to acknowledge their indebtedness to Mr Greaves." A vote of thanks was then passed to Mr Greaves "for his liberality".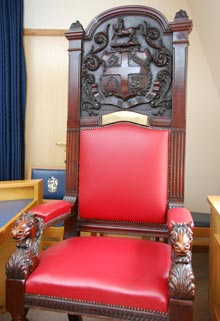 The chair is a high-backed oak chair with the RCVS coat of arms carved on the back; the arms of the chair have carved horses' heads. A brass plaque on the chair reads: "Presented to the Royal College of Veterinary Surgeons by Mr Thomas Greaves FRCVS 1887".
Thomas Greaves (1817-1895) qualified from London in 1848, was awarded the Fellowship in 1877 and served as RCVS President in 1869-70. His obituaries record that he was a generous benefactor to the profession who gave financial assistance to the first British Veterinary Congress in 1867.
He was a regular contributor to the veterinary periodicals, however, The Veterinary Record Vol 7 No 355 p. 595 records in its obituary that his contributions were "all spoiled by his irrepressible habit of indulging in hypothetical explanations".
There is a portrait of Greaves on the 5th floor of Belgravia House outside the Council Chamber, which was presented to the College by his friends.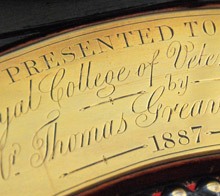 Click on the photo alongside to view an enlarged version.
To view the presidential chair, Greaves' portrait, or any other item in the archives, please contact the Library at library@rcvsknowledge.org or 020 7202 0752 to arrange an appointment.