Almost a disaster: John Archibald Watt Dollar's portrait.
Outside the RCVS Council Chamber in Belgravia House is a hangs a striking portrait of John Archibald Watt Dollar, FRCVS FRSE. (1866-1947).
I am sorry to have to report to you a disaster that has occurred to your picture
Dollar served on RCVS Council from 1894-1909 and as President in 1904-05, during which time he gave to Council the badge and chain that are part of the Presidential regalia he is pictured wearing.
When Dollar presented his portrait to the RCVS in April 1939 things didn't go quite as planned, as a letter to Dollar in May 1939 from the then RCVS Registrar, Dr Fred Bullock, reveals:
"I am sorry to have to report to you a disaster that has occurred to your picture [whilst hanging it] … it fell to the ground and two corners of the frame broke off"
Dollar replied to say how he valued the frame highly and had "searched over the whole of the West End to find it," and when it was eventually repaired, at the College's expense, for a cost of £3, the restorer apparently agreed saying it was "a very good specimen of Florentine work."
The incident appears still to have been remembered some years later when after the College building at 10 Red Lion Square was damaged in the Blitz, Dollar scrawled across the top of a letter to Bullock a postscript: "Oh! By the way! Was any fragment of my pictures recovered from No 10. Don't be afraid if you have to say NO. I shall survive it I hope."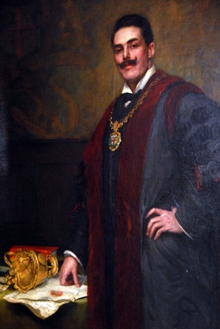 Dollar was the son of a veterinary surgeon, Thomas Aitkin Dollar, who had a highly successful practice in the West End. He was educated at the Dollar Academy in Scotland and then at the Royal Veterinary College (RVC) from where he qualified as a veterinary surgeon in 1887. He also took time out from his veterinary curriculum to take classes in German, physiology and public speaking at Kings College London.
After qualifying, Dollar worked alongside his brother William in his father's practice, and was regarded as a very competent equine practitioner particularly in the field of surgery. He held the Royal Warrant of appointment to Queen Victoria and King Edward VII and Kings George V and VI.
He also made a number of visits to Europe, including in 1889 to the veterinary schools in Lyons and Alfort, and was well known as an author and translator, including translating Mollers Veterinary Surgery from the German. Dollar was the last editor of The Veterinarian the first British veterinary periodical which ran from 1828-1902.
If you want to view this portrait, or if any of the others in the RCVS Collection please contact the Library at library@rcvstrust.org.uk or 020 7202 0752.