Stephen tells us about his grant to do a Practice Based Diploma to become a Recognised Specialist in veterinary cardiology.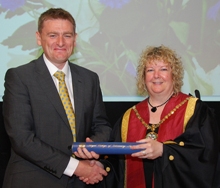 When I qualified as a vet over 20 years ago, veterinary specialism was an unusual career path, viewed more as an academic pursuit rather than a clinical training position. Most graduates then were intent on becoming "mixed" vets, working initially with all species before settling into companion animal, equine or farm practice.
I started work in mixed-practice and moved into small animal practice. Although I always had a keen interest in veterinary cardiology, it was only after some years I found myself focusing on cardiology and respiratory medicine full-time.
Veterinary surgeons in practice with an interest in veterinary cardiology have historically studied towards the RCVS Certificate in Veterinary Cardiology, the attainment of which denotes competency in veterinary cardiology, but not specialist recognition.
Having attained the RCVS Certificate in Veterinary Cardiology in 1997, I became a partner in my practice and started a family. By 2005 I was working as a full-time cardiologist, so I felt it was important to attain recognition as a cardiology specialist through the RCVS Diploma. This qualification is usually achieved via a post-graduate university residency, however residency positions are scarce and usually not an option for experienced practitioners with family and practice commitments.
"Studying towards the diploma from practice was not as easy task; there were times I wondered if it would be worth the sacrifices I was making. What you fail to realise at the time is how far you have travelled, how much knowledge and expertise you have gained. What you also learn is how much you don't yet know and the importance of continued learning and development."
The financial cost of doing a Diploma from practice is difficult to accurately calculate, but is likely to have cost at least £100,000 over the study period. The major cost has been employing other cardiologists to replace me at SCVS, or visiting cardiology specialists to work with me. Although IDEXX kindly donated test kits for the research project, there were additional self-funded laboratory fees incurred as part of research as well as travel costs and purchase of specialist literature. The grant provided by RCVS Knowledge (£15,000) was a very significant and welcome contribution to the overall financial commitment.
I am very glad I have attained the diploma qualification and I am looking forward now to a career as a cardiology specialist, working within a group of like-minded veterinary specialists, providing a referral service to the local veterinary community for whom I have great respect and empathy.
Photo: Stephen receiving his diploma from RCVS President, Jacqui Molyneux, at RCVS Day 5th July 2013.