Between 2005 and 2010 RCVS Trust (now RCVS Knowledge) has distributed almost £3 million in grants. This has included: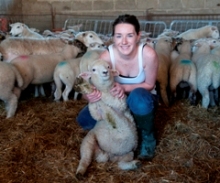 £900,000 in our Residency Programme
£500,000 in Small Grants
£500,000 in Golden Jubilee Grants
£500,000 in Blue Sky Research Grants
£260,000 in Spencer-Hill Equipment Grants
£70,000 in Travel Scholarships
£70,000 in Practice Based Diploma Grants
£45,000 in Extra-Mural Study Research Scholarships (EMS)
Below are some examples of the type of work we have funded:
Driving Practice Innovation Award
Collaborations
RCVS Knowledge is involved in a number of collaborative projects that explore the development of the veterinary profession and add to the historical knowledge base.
Blue Sky Research
This programme was set up to support veterinary scientific research which was of an exploratory nature. It aimed to fulfil a need for pump-priming basic and translational research in a vibrant but under-resourced veterinary scientific sector.

Allison German, Honorary Research Fellow at the University of Liverpool

"Feline rotaviruses have been identified in diarrhoeic children in Japan, Italy, Israel and America, but because of limited funding options, there has been no systematic study of rotaviruses in cats, so the prevalence, risk factors and zoonotic potential are unknown."
Driving Practice Innovation Award
2011 marked the 50th anniversary of the veterinary nursing qualification. We celebrated this by introducing a dedicated program which aimed to encourage veterinary nurses to push the boundaries of their role to make a unique difference to animal care.
The Driving Practice Innovation award was won by Sarah Hancill for her idea to produce a peripheral venous catheter care checklist.
Extra-Mural Studies
Qualifying as a vet requires a minimum of 38 weeks placement work, which many students struggle with financially. A legacy from Rosemary Hughes MRCVS has made these awards possible.

Chris Snow, student at the Royal Veterinary College

"I have always been interested in wildlife biology and when the chance come about to participate in a project releasing orphaned baby elephants back into the wild in Sri Lanka I was very keen to get involved."
Golden Jubilee
In 2008, the then RCVS Charitable Trust marked its 50th anniversary by awarding over £1,000,000 of funding for 59 research and animal welfare projects in the UK and overseas, the largest of which were two Golden Jubilee grants of £250,000 each; one to the Royal (Dick) School of Veterinary Studies looking at canine ageing and regeneration and the other at Liverpool Veterinary School in veterinary pathogen genomics.

Alan Radford, Reader at the University of Liverpool
"This project has revolutionised the opportunities available to scientists, and allowed for a radical step-change in the quantity and quality of data they can produce. The value... will be continually felt for many years to come."
David Argyle, Head of School, The Royal (Dick) School of Veterinary Studies
"The complex biology of animals never ceases to amaze, and the more we learn, the greater the opportunity for improving animal welfare."
Practice Based Diplomas
Grants for Practice Based Diplomas gave financial support to vets in practice who achieved a high standard of academic and professional expertise in their chosen subject area (similar to consultants in human medicine) to attain RCVS Diplomas.

Stephen Collins, Recognised Specialist in veterinary cardiology, Southern Counties Veterinary Specialists
"Studying towards a diploma from practice was not as easy task; there were times I wondered if it would be worth the sacrifices I was making. What you fail to realise at the time is how far you have travelled, how much knowledge and expertise you have gained. What you also learn is how much you don't yet know and the importance of continued learning and development."
Spencer-Hill Equipment Grant
The Trust has been making important equipment awards over many years thanks to the generosity of donors including a significant gift from Frances Spencer-Hill. 2011 marked the 50th anniversary of the veterinary nursing qualification. We celebrated this by dedicating the Spencer-Hill program to Accredited Veterinary Nursing Training Centres.

A K9 CPR 'Jerry' Manikin for City and Islington College

"I remember dealing with a crash patient when I was a student nurse…All I really had was a few bits of paper to back me up. It was because of this that I thought it was really important that the students practise and hone their skills before they are put in a similar situation."
Travel Scholarships
These scholarships are for registered members of the RCVS and candidates registered for a PhD at a UK veterinary school to pursue themes of clinical or non-clinical research involving short-term visits to veterinary or medical centres, research institutes, or to present at conferences. It is important to invest in educating and training the next generation if we are going to advance veterinary medicine.

Hannah Hodgkiss-Geere, Senior Clinical scholar at the University of Edinburgh
"Stem cell research can become quite specific and compartmentalised, so going to a major conference in the US meant I could learn more about the diverse research being undertaken internationally, ranging through all the different types of stem cells and their potential applications.