2011 marked the 50th anniversary of the veterinary nursing qualification. We celebrated this by introducing a dedicated program which aimed to encourage veterinary nurses to push the boundaries of their role and to make a unique difference to animal care.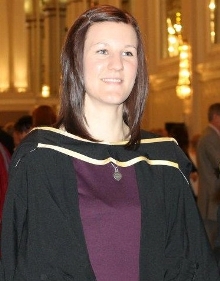 The Driving Practice Innovation Award was won by Sarah Hancill RVN for her idea to produce a peripheral venous catheter care checklist.
Sarah says,
"Peripheral venous catheters are used to administer medication directly into the venous system for rapid distribution to the whole body, and also to deliver fluid therapy and nutritional support to the patient.
Although intravenous catheter insertion has become common practice, breaking the skin barrier alters the hosts' defences against infection, which increases the risk of local infection or bacteraemia with more serious complications such as septicaemia. This causes concern for patient safety.
The peripheral venous catheter care checklist will help to increase patient safety. It consists of quality indicators which are repeated every 24 hours over a 72 hour period. This timing allows for objective assessment of clinical performance for insertion and management of the peripheral intravenous catheters. For example, appropriate hand hygiene followed before handling the patient, appearance of catheter insertion site and timely removal of the catheter are some of the interventions.
This checklist will hopefully be valued by veterinary nurses as it can be used as a practical tool to care for patients who need an intravenous catheter placed as part of their treatment. It has an additional use as an educational tool, to help and show students the correct protocol for caring for an intravenous catheter."
How to use the peripheral venous catheter care checklist
The checklist consists of quality indicators which are repeated every 24 hours over a 72 hour period. Each patient with an intravenous catheter in situ longer than 24 hours should be assigned a checklist.
Each day the veterinary nurse or veterinary surgeon caring for the patient should complete each intervention and record their findings on the checklist provided. This can then be used as a tool for communicating between staff any problems with the catheter. It can also be used to collect data on what interventions are being completed.
The checklist can be downloaded from the Related Documents box.
About Sarah Hancill RVN
Sarah registered as a Veterinary Nurse in 2011 when she graduated from the Royal Veterinary College with a foundation degree in Veterinary Nursing. Although Sarah had been pronounced the winner of our Driving Practice Innovation award, the next academic year was a busy time for her.
As well as locuming at a number of different practices, Sarah went on to gain a BSc (Hons) in Veterinary Nursing from RVC.
The prize
Sarah won an Amazon voucher worth £100 which she used to buy a pair of netball shoes. Sarah says, "Playing netball helps me to deal with the stresses of being a veterinary nurse".