Veterinary teams need practical evidence-based tools to solve patient problems efficiently. That's why we are focusing on "Knowledge Summaries".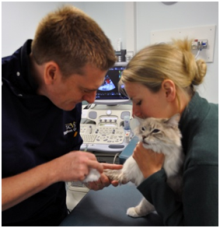 In the veterinary profession, as in human medicine, a great deal of time is spent making decisions in a complex and often uncertain environment. Family physicians may need answers for up to 333,000 questions per year.[1] For veterinary practitioners dealing with more than just one animal species, the need for answers are bound to be as numerous. The challenge to keep up with the latest research is immense.
The interface between practitioners and evidence-based resources can be strengthened by the use of Critically Appraised Topics (CATs). [2,3] These are short critical summaries of the best available information on a defined clinical question. They provide a concise conclusion which should be easily accessible by clinical staff.[4]
We have decided to call these CATs "Knowledge Summaries" (so as not to be confused with the cat species) in that they are summarised resources to address knowledge needs.
Veterinary Evidence
To fill a recognised gap5,6, we have created Veterinary Evidence. Practitioners can share the answers they've found with their colleagues, by writing a Knowledge Summary and submitting it to Veterinary Evidence.
Examples of published Knowledge Summaries, as well as author guidelines and submission templates can be found on Veterinary Evidence.
"People around the planet have already started systems to share critically appraised topics (CATs). This is the only effective approach to the information explosion in clinical medicine. We must share CATs on a global basis. We are all asking the same questions and seeking the same answers. If we share that process, then we may be able to make the information needed by clinicians more widely available, as well as accessible at the point of clinical contact"

Dawes, M. (2005) Critically appraised topics and evidence-based medicine journals. Singapore Medical Journal, 46 (9), pp.447