An Evidence Based Veterinary Medicine (EBVM) symposium titled, The Sceptical Vet: Eminence or Evidence was hosted by the RCVS Charitable Trust on Tuesday 30 October. The event was the first of its kind in the UK.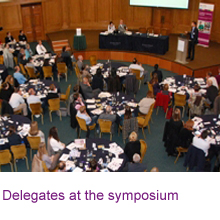 Over 160 delegates from all sectors of the profession gathered in London to hear speakers from the veterinary and medical fields discuss EBVM and its place in veterinary practice today.
The free symposium aimed to define EBVM, its principles and practices, and to discuss the lessons learnt from the evidence-based movement so far. Through debate and discussion, spurred by some world class speakers, the aim was to ultimately encourage a profession-wide adoption of EBVM principles.
Photo above: delegates at the symposium. Click on the photo to view an enlarged version
Dr Rachel Dean, the Director at the Centre for Evidence-based Veterinary Medicine, described EBVM as the 'use of best relevant evidence in conjunction with clinical expertise to make the best possible decision about a veterinary patient'. Simply put, the movement is promoting 'good science used by good vets to make good decisions'.
Where do vets find best evidence and how do they know that it is relevant? This hurdle, coupled with the average vet's time constraints can make the RCVS required level of clinical governance quite daunting. Clare Boulton, RCVS Charitable Trust Librarian and final speaker of the day, believes the RCVS Charitable Trust can help practitioners strive for a more EBVM focussed practice. The Library already provides access to the majority of veterinary literature and the library team provide a variety of tailored services. Delegates suggested the Library could promote the publication of systematic reviews and use resources to provide a database of Ethical Review Committees.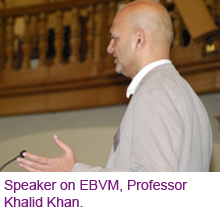 Human medicine has often been the model for veterinary medicine. Evidence shows that through training in Evidence Based Medicine (EBM) medical doctors are more knowledgeable and they positively affect their working environments by engaging in stimulating discussions that challenge the status quo. This open environment positively impacts on the quality of healthcare their patients receive.
The veterinary profession can rely too often on the phrase 'in my experience' warns Dr Brennen McKenzie, which implies uncontrolled individual observation. Rather than discount experience in practice, EBVM seeks to blend it with rigorous systematic review. It was stressed by all speakers that EBVM starts and finishes in veterinary practice.
Presentations
Copies of speaker profile, event programme and presentation slides can be downloaded from our 'Related documents' box, top right, or you can listen to the audio recordings.
Getting a handle on EVM: clarifying the basics – presentations by Dr Sally Everitt and Pam Mosedale
What has EBM done for the medical field? – Professor Khalid Khan
The veterinary landscape and perspective – Dr Brennen McKenzie, president of the Evidence Based Veterinary Medicine Association
Practical stories from the equine, small animal and farm animal sectors – presentations by Dr Tim Mair (equine), Dr Aiden Foster (small animal) and Dr Wendela Wapenaar (farm animal)
Making a practical start: how practice vets can get involved – presentations from Dr Rachel Dean, Dr Douglas Grindlay and Clare Boulton (RCVS Charitable Trust Librarian)
Results of polling questions
Interactive voting buttons were given to delegates for use during the symposium in order to gauge opinions (some of which were asked at the beginning and again at the end of the day in order to gauge change).
What do we need to be able to practise EBVM?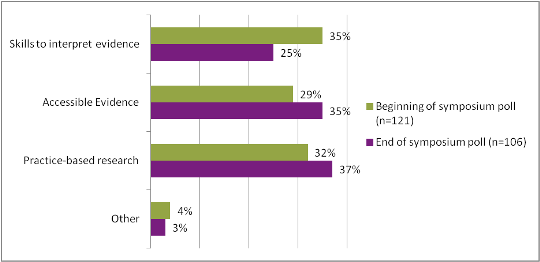 Results of other polling questions can be downloaded from our 'Related documents' box, top right.