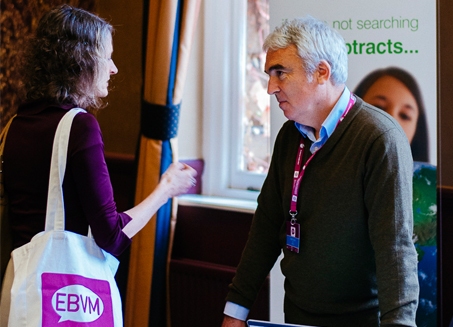 EBVM Skills Day: Quality Improvement in Practice, 15th November – Mary Sumner House, London.
Why join us as a Partner, Sponsor or Exhibitor?
Quality Improvement in Practice is the must-attend conference for evidence-based veterinary medicine (EBVM) in the 2017 veterinary calendar.
Network with key decision makers – engage with an expected audience of 100 select delegates, including practitioners, clinicians, researchers, academics and policy makers from the UK and beyond.
Boost your brand image – raise your profile within the veterinary world and demonstrate your alignment with EBVM.
Expand your client base – market your products and services to an audience of leading veterinary professionals.
Be part of the change – join the network of organisations and individuals that share a commitment to EBVM and play a crucial part in the evolution and success of this important development for the veterinary world.
How?
Join us as a Partner – enjoy a high profile throughout the conference by becoming a Gold, Silver or Bronze Partner.
Please download a copy of our Sponsorship Guide from our 'Related documents' box for details of the packages we have available. Just let us know if you have any special requirements, we are happy to discuss packages tailored to your needs.
For further information contact Kathleen Reinoga, Head of Projects: kathleen@rcvsknowledge.org; 020 7202 0241.