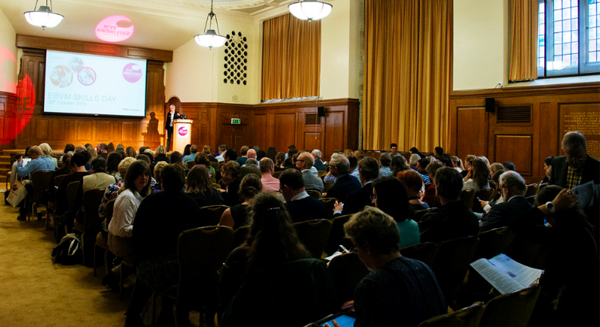 Over 140 delegates attended our first EBVM Skills Day, hosted at Church House, London. The day aimed to close the gap between EBVM theory and daily veterinary practice, equipping practitioners with the tools they need to advance evidence-based approaches to veterinary medicine. This highly successful event followed on from the 1st international EBVM Network Conference, and focused more in depth on how to implement EBVM.
The programme consisted of a mix of exciting plenary and breakout sessions, including talks on practical statistics, how to critically appraise a paper and run a journal club, and how to get published amongst others.
Skills Day focused on developing collaborations between professionals in practice, industry and academia, in order to spread the word of the benefits of an EBVM outlook. The day served as an ideal opportunity to showcase the new Journal - Veterinary Evidence, as well as the new EBVM Learning resource developed by veterinary educators and practitioners from the EBVM Network.
We were delighted to welcome 21 sponsors and event partners, who supported the event and are truly committed to advancing EBVM and to the veterinary profession.


Our News
Delegates and speakers thoughts

"Every vet and nurse should attend! Can we make it compulsory?"
"This event made me more confident to carry out my own research and attempt to get my findings published... it gave a real insight into RCVS Knowledge and EBVM and how it can be applied to everyday practice"
Follow the excitement of the day by searching #EBVM2015 on Twitter, and see the rest of our delegate and speakers comments posted throughout Skills Day!
See our Skills Day Bursaries page for a full list of the bursary holders.
Experience all this and more at our future events